Museum of Vancouver
Gain a deeper understanding of our city through stories, objects, and shared experiences at Museum of Vancouver (MOV). Learn about Vancouver's past from 1900 to 1970 by visiting MOV's History Galleries.
Featured Exhibitions:
All We Want Is More: The Tobias Wong Project - In the early 2000s, Tobias Wong (1974–2010) took the design world by storm. Born and raised in Vancouver, Wong was a brilliant and prolific artist whose career was all too short. Defying easy categorization, his work was wide ranging, pushing and dissolving disciplinary boundaries between conceptual art, performance and product design. This exhibition is an invitation to revisit Wong's artistic contribution with fresh eyes.
A Seat the Table: Chinese Immigration and British Columbia - This multi-sited exhibition explores historical and contemporary stories of Chinese Canadians in BC and their struggles for belonging. It looks to food and restaurant culture as an entry point to feature stories that reveal the great diversity of immigrant experience and of the communities immigrants develop.
MOV is located in scenic Vanier Park. Only a 5 mins drive from downtown and a 20 mins stroll along the ocean boardwalk to either; Granville Island or Kitsilano Beach. MOV is easily accessible by False Creek Ferries, Mobi Bike Share Program and City Transit.
There is plenty of room in our Galleries to ensure physical distancing and our on site safety protocols will ensure a safe and enjoyable visit.
Please present your VanPass ticket whenever you wish to visit.
Visit our website: museumofvancouver.ca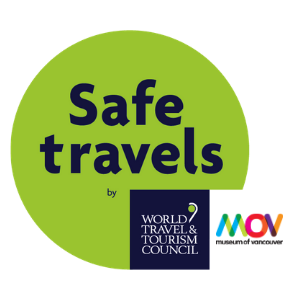 You might also be interested in visiting: