Museum of Vancouver
Gain a deeper understanding of our city through stories, objects, and shared experiences at Museum of Vancouver (MOV). Learn about Vancouver's past from 1900 to 1970 by visiting MOV's History Galleries. The neon signs gallery is also a favorite of many guests.
Temporary Exhibitions:
Neon Vancouver | Ugly Vancouver - In the 1950s Vancouver had approximately 19,000 neon signs – more than Las Vegas! While some thought that thousands of signs signaled excitement and big city living, others thought they were a tawdry display that disfigured the city's natural beauty. This deep civic controversy resulted in a turning point in Vancouver's history and a change to the city's urban landscape. Enjoy the big city lights of Vancouver and catch a glimpse of the city from the 1950s through to the 1970s with this extraordinary collection of neon signs.
A Seat the Table: Chinese Immigration and British Columbia - This multi-sited exhibition explores historical and contemporary stories of Chinese Canadians in BC and their struggles for belonging. It looks to food and restaurant culture as an entry point to feature stories that reveal the great diversity of immigrant experience and of the communities immigrants develop.
Boarder X – an exhibition of interdisciplinary contemporary art by Indigenous artists from across Canada, who surf, skate, and snowboard will open.
That Which Sustains Us - is a long-term exhibition that explores the convergence of different knowledge traditions in the Vancouver area through an examination of people's interactions with forests and their natural environment. It does so by showcasing traditional ecological knowledge related to forests; consequences of the deforestation and urbanization of Vancouver; and the possibility of returning to sustainable land use practices in the Greater Vancouver area. The thread that connects these narratives is the idea that culture ultimately shapes how people choose to interact with the natural world.
MOV is located in scenic Vanier Park. Only a 5 mins drive from downtown and a 20 mins stroll along the ocean boardwalk to either; Granville Island or Kitsilano Beach. MOV is easily accessible by False Creek Ferries, Mobi Bike Share Program and City Transit.
There is plenty of room in our Galleries to ensure physical distancing and our on site safety protocols will ensure a safe and enjoyable visit.
Please present your VanPass ticket whenever you wish to visit.
Visit our website: museumofvancouver.ca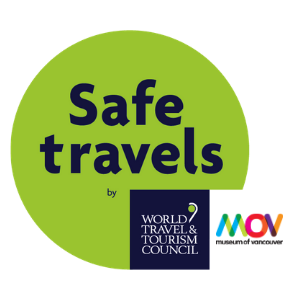 You might also be interested in visiting: